COLLABORATIONS
I love working with folks across disciplines to explore novel solutions to complex problems through experimentation and collaborative play.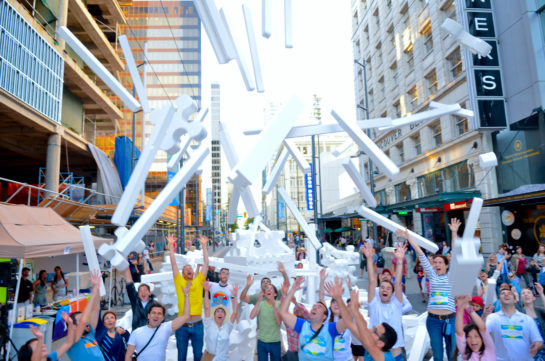 My team at Happy Cities uses the science of wellbeing to create healthier, happier and more inclusive communities. Our interdisciplinary group helps governments, city builders and city dwellers from Denver to Dubai harness lessons from psychology and public health in order to design places that work better for everyone.
I'm also interested in new housing innovations that nurture community and connection. I'm fortunate to be a member of Little Mountain Cohousing, a group of individuals who financed, designed and built our own urban village in Vancouver. I'm also proud to have collaborated on Tomo House, which poured lessons from Happy city into design for the world's first cohousing "lite" community.
I especially enjoy translating lessons from psychology into public experiments that give people a visceral understanding of the science. Working with the BMW Guggenheim Lab, I turned an empty lot in New York City into a machine for producing the hormone, oxytocin, through human touch. Working with neuroscientist Colin Ellard, we created a new way to test the emotional effects that public space designs have on people. For a primer on what I call urban experimentalism, check out this post.
My collaborative work is based on the premise that almost all people are good, almost all of the time. How can we unlock human kindness? It's easier than you might think. I realized this when I created Home for the Games, a charity that matched homeowners with visitors during the 2010 Olympics in Vancouver—and funneled the revenues to charities fighting homelessness. 
If you have social or design challenges you want to solve in your community, or if you'd like to experiment together, let's talk!